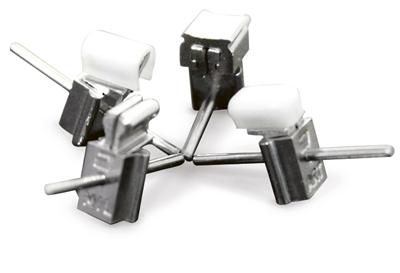 Dupli
Version
A
Dupli
version is available for all the series
Art
,
Rec
,
Ter
and
Mil
only in version CORTO.
Features distinguishing
Dupli
version are the vertical position of the retention pin and the shape of the sheath granting restoration of high esthetical value.
Dupli Rec
intra version allows the bonding of both matrix and patrix which compensate any potential inaccuracy of fit.
The only one dental attachment international  with vertical pin.
Vertical pin for an easier duplicating proceeding without any dragging, cracks and inaccuracies in the silicon
Bonding of the sheath avoiding problems of soldering
Male easily changed without any intervention in the visible part of the denture
It can be activated
Features  

Matrix
Patrix

All matrices of all series of attachments
Differents materials following the series chosen

Three components: male, sheath and pin
One version CORTO for all series Art, Rec, Ter and Mil
Two materials: precious alloy and stainless steel
Two inclinations: 90° and 105°
Usage advices  

Indications
Fixation

Upper and lower dentures
Dentures with bounded saddles and free-end sections
Unilateral and bilateral dentures

MATRIX: soldered or cast-on or bonded or cast with precious and non precious alloys depending on the serie Art, Rec, Ter and Mil

PATRIX: bonded or soldered to removable partial denture with precious and non precious alloys